Occupation
Intensified collective
rising up.
A sea of oppressed
soul marchers
making way onto the
encrusted infrastructure
of a diseased corporate
takeover.
Pulling to task
the empty heartbeats and frozen veins
that have served
death warrants
onto the very lifelines of
a nation.
A slam bang chess game
played out
in secret halls,
on fattened hills
and greed-fueled exchanges,
using humans as
pawns and guinea pigs
while spinning
empty promises
leading up to a fast
and blindsided
checkmate.
The crowds will expand
in volume,
in voice,
and in controlled rage.
This frozen sand pile will never move
unless drowned
in its own underlying
whirlpool
wrenched from
its posts
pulled from its locked down
moorings
and stripped of its
power.
The voices are growing
and they will shake
the demonic giants
who have planted poison,
raped, pillaged, gagged
and cut the flow of
human dignity.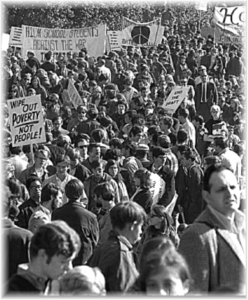 The people are collecting
muscle,
mass,
infusing the
airwaves
and
holding fast
for an end
to
this endless
nightmare.
But what will they do
as winter's air rushes in,
as encampments freeze
and long for shelter.
The mad dogs are waiting…
waiting
for the mass retreat,
the slinky back down,
for the faceless ones
to finally
go home.
So the people must move…
into second phase
stronger,
more daring,
shaking the foundation,
roaring into the ears
of the lions and bulls
that change is here…
game over.
by Cynthia Adler